Punches and Dies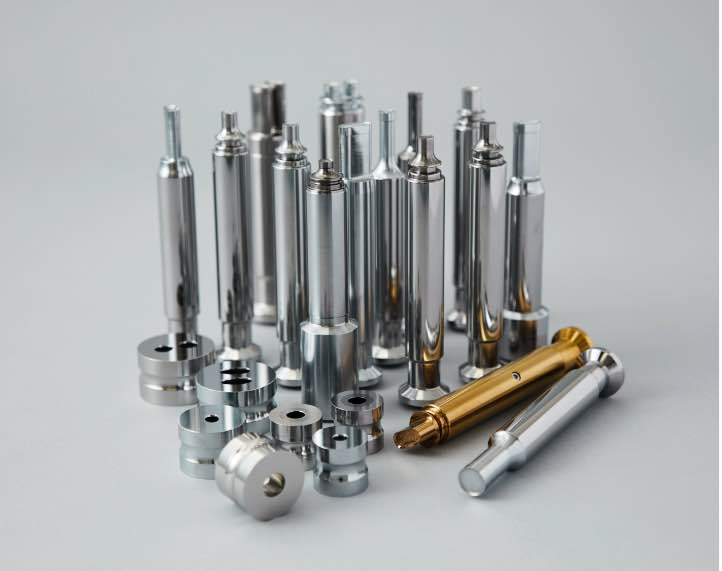 About
For MORI MACHINERY's tableting tools (punches and dies), we put "feeling at ease," "safety," and "stability" first, and continue to manufacture uncompromising products that support our customers' important work.
In addition, being also a tableting machine manufacturer, and we can handle a wide range of things to select the optimum tablet design and material because we understand tableting, propose a wide range of surface treatments according to the situation, and solve problems and improve during tableting production.
Please contact:Chemical Device Division TEL +8186-958-2327
Contribute to overcoming technical issues such as tableting problems
Propose punches and dies with functionality (Adhesion resistance and wear resistance) corresponding to the application is available.
We carry out from design to production at our own factory and supply stable products.
Feature
01

We produce punches and dies with a "feeling at ease" and "safety" system.

We think it important for punches and dies to be used by customers with feeling at ease, to be safe enough to handle pharmaceuticals and foods, and to be stable so that the same thing can be done at any time. In order to realize these, we manufacture with a system that customers can trust, the use of the highest precision measuring instruments and processing machines, the skill of the industry's best craftsmen, and the introduction of a strict quality management system.

02

We can propose a wide range of products.

The functions of the motors pestles required during production vary widely depending on the raw materials and tabletting conditions. At MORI MACHINERY, we propose the optimum specifications for our customers from surface treatment, base treatment, material, shape, etc. For example, even with surface treatment alone, we propose from many types such as wear-resistant coatings for very hard raw materials, highly releasable coatings for raw materials that adhere and are difficult to tablet, and coatings that have both functions.
Catalog
If you would like to look at the product catalog data, please contact us using the form below.
After confirmation, we will send you the login password. Please enter the password from the Catalog List page below and click "Login" to look at the catalog list.
A password is required
to view the catalog.
Contact
Inquiry about this product / Download catalog
If you would like to look at the catalog data of our products, please contact us from this form.
After confirmation, we will send you the login password.