Rotary Press MZ400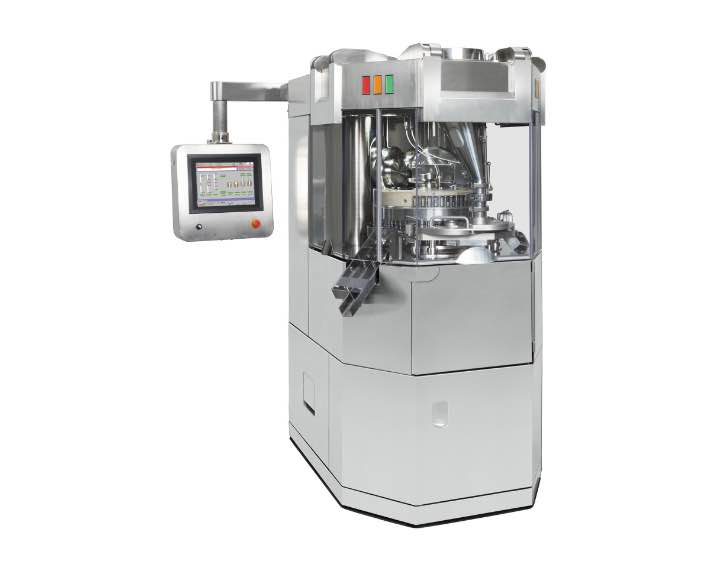 About
The Rotary Press MZ400 was developed to make it easier for our customers to use.
We have achieved high standards in all of the ""tabletability,"" ""workability,"" and ""functionality"" required at the severe production sites of the pharmaceutical industry.
Equipped with the industry's largest-scale roller, two-stage impeller feeder, and unique tablet mass control system, it demonstrates tableting performance regardless of raw material.
In addition, the structure has no pillars on the front, and the rotating disk attachment and detachment method is adopted, ensuring an overwhelming work space and high workability. As a result, the time required for item switching work is shortened, the risk of foreign matter contamination is reduced, and high safety is achieved.
Please contact:Chemical Device Division TEL +8186-958-2327
We propose "easier to use" to everyone involved in tableting.
Provide an overwhelming work space without front columns
You can use it with confidence with detailed after-sales follow-up service.
Feature
01

Improved moldability by adopting a large-scale compression roller

By adopting a large-scale roller with a diameter of 250 mm for both pre-compression and main-compression, the compression time is extended and high moldability is ensured. This enables reduction of tableting problems and stable high-speed tableting.

02

Workability is dramatically improved with a three-sided open door that does not have a front support.

Since there are no pillars on the front, the safety and workability of parts attachment and detachment and cleaning work are dramatically improved. In addition, by minimizing the unevenness in the machine and eliminating the blind spot in the cleaning area, the possibility of powder accumulation of raw materials and unwiped residue are reduced.
Catalog
If you would like to look at the product catalog data, please contact us using the form below.
After confirmation, we will send you the login password. Please enter the password from the Catalog List page below and click "Login" to look at the catalog list.
A password is required
to view the catalog.
Contact
Inquiry about this product / Download catalog
If you would like to look at the catalog data of our products, please contact us from this form.
After confirmation, we will send you the login password.