Peripheral equipment for cold roll forming machines and tube mills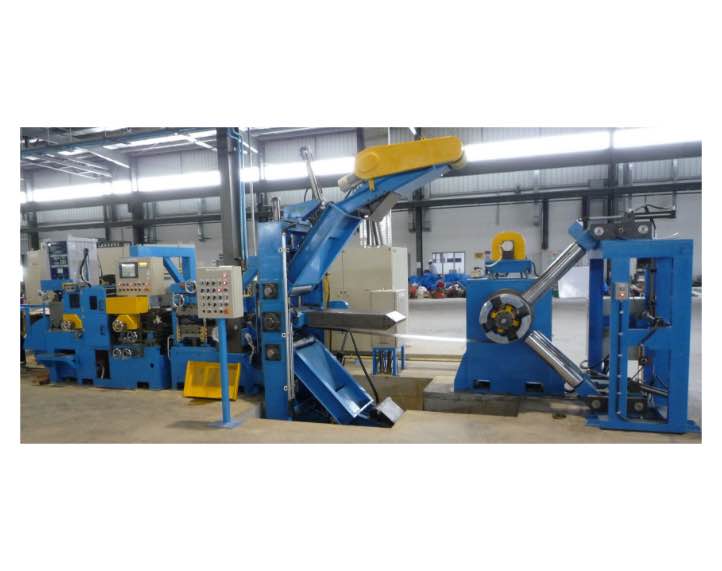 About
Forming Machine Division of MORI MACHINERY also designs and manufactures peripheral equipment as well as cold roll forming and tube mills. Various peripheral equipment technically developed by rich experience and achievements have been making a great contribution to high speed, high efficiency and laborsaving.
Please contact:Forming Machine Division TEL +81-868-74-3618
Product
Uncoiler

For unwinding coil material.

Coil opener

A guiding device for conveying tips of coil material to the next process.

Pinch roll leveler

For straightening the front and rear end of coil material.

Shear & Welder

For welding the rear end and tip of the coil material.

Strip accumulator

For accumulating coil material equivalent to the time required for relay welding.

Pre-punch press

For punching coil materials prior to forming.

Quick changeover system

Offers quick changeover of forming, welding roll stations (raft plates).

Squeeze roll shield unit

Squeeze roll device for HF welding ferritic stainless steel.

Inside bead scarfing

For scarfing weld beads inside tube by HF welding.

Inner bead rolling

For smoothly grinding weld bead inside the tube.

Inline annealing device

For continuously annealing pipes online.

Traveling cutoff machine

For continuously cutting formed products to precise lengths.

Inter-running combined processing cutting machine

For continuously punching and cutting formed products to precise lengths.

Chamfering device

For chamfering both ends of a tube to precise lengths.

Stacked & bundling device

For automatically stacking and bundling predetermined length pipes to a set number of shapes.

Stacker machine

For automatically aligning and placing flat tubes for heat exchangers in tube trays.
Recommendable for those who want to reduce labor cost by automating (laborsaving)
Recommendable for those who want to increase production efficiency
Recommendable for those who want to improve quality and acquire new customers (industry)
Feature
01

Productivity can be greatly improved by using peripheral equipment that match forming machines and tube mills.

With the automatic tube stacker, 400mm long radiator tubes can be automatically aligned with a high processing capacity of 500 tubes / min.

02

We ensure a full support for peripheral equipment with our integrated production system.

We have been constantly improving and upgrading based on our rich experience and achievements.
Catalog
If you would like to look at the product catalog data, please contact us using the form below.
After confirmation, we will send you the login password. Please enter the password from the Catalog List page below and click "Login" to look at the catalog list.
A password is required
to view the catalog.
Contact
Inquiry about this product / Download catalog
If you would like to look at the catalog data of our products, please contact us from this form.
After confirmation, we will send you the login password.